Date: November 3, 2023
The city of Oakland, along with prominent figures from the Bay Area's music scene, gathered for a ceremony commemorating Tupac Shakur. A section of Oakland's MacArthur Blvd. has been officially renamed "Tupac Shakur Way" in tribute to the late rapper.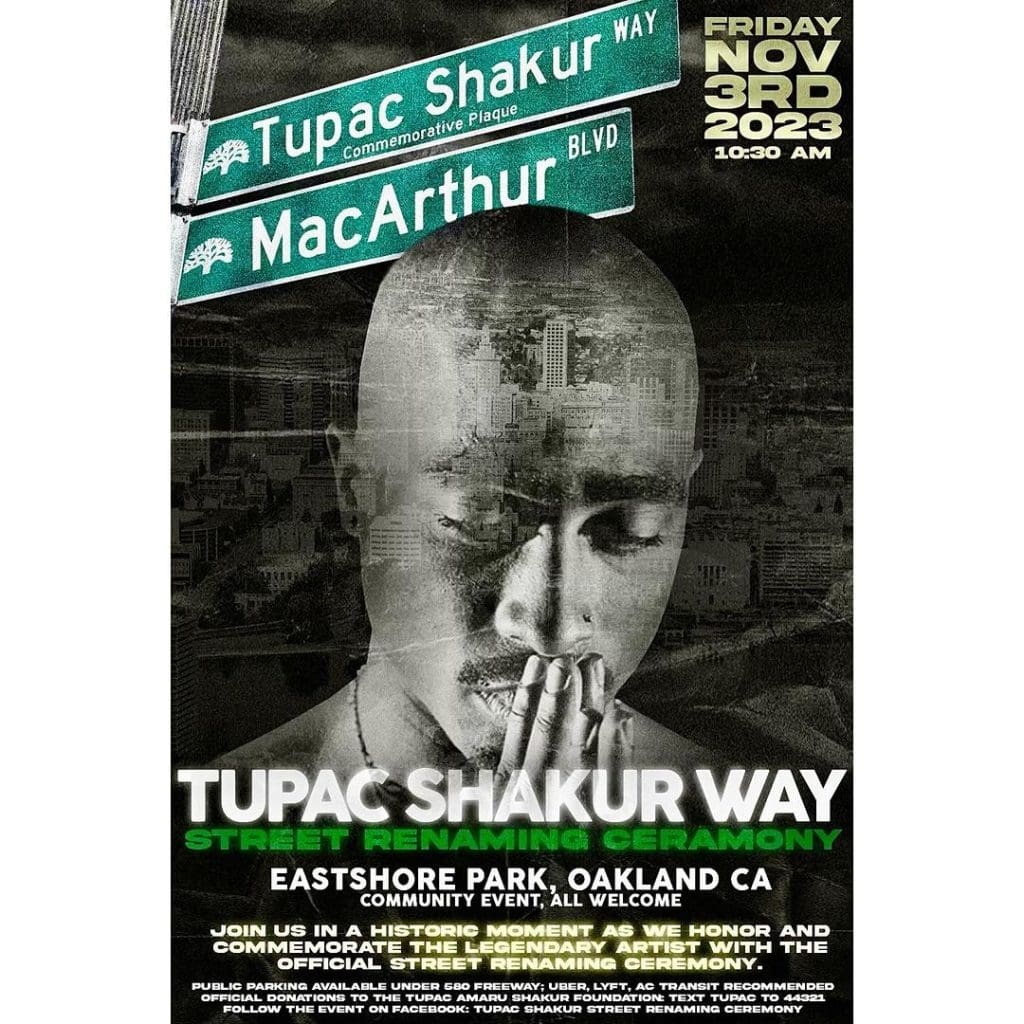 Present at the event were members of the Shakur family, acknowledging Tupac's strong connection to Oakland, which he considered his adopted hometown during the 1990s. Although born in East Harlem and spending his formative years in Baltimore, Tupac settled in the Bay Area in the late 1980s, residing in an apartment on 275 MacArthur, now marked by the renamed street sign.
Oakland played a pivotal role in Tupac's musical journey, serving as the launchpad for his career. Initially involved as a dancer and a member of Digital Underground, he later released his debut album "2Pacalypse Now" in 1991, recorded in nearby Richmond, California.
The ceremony was graced by notable Bay Area artists, including Digital Underground's Money B, along with E-40, Too $hort, Richey Rich Double R, and MC Hammer. MC Hammer emphasized Tupac's unparalleled influence in the rap genre, asserting him as "the greatest rapper ever."
E-40 echoed this sentiment, underlining Tupac's advocacy for their community and culture, emphasizing the profound impact he made in a relatively short span of time.
Tupac's sister, Sekyiwa "Set" Shakur, shared her reflections, expressing confidence that her brother would have taken immense pride in this moment. She emphasized Tupac's dedication to fostering love and harmony within the Oakland community, a cause that held great significance for him. Sekyiwa concluded with a heartfelt plea for Tupac's spirit to endure in the hearts and streets of Oakland for years to come.
This commemorative event followed a recent development in the investigation into Tupac's unsolved shooting, with Duane "Keffe D" Davis pleading not guilty to the rapper's murder a day prior.